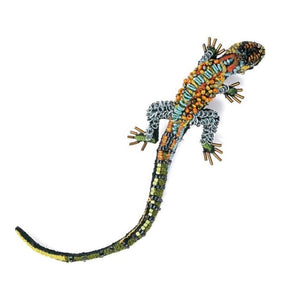 With its body covered with heavy dorsal scales that resemble those of crocodiles and hence the name Caiman, this lizard thrives in swampy habitats, basking in the sun glory and swiftly diving into the water at the first sign of danger.
Created by a nature inspired atelier, crafting a line of timeless & treasured jewelry. The precise choice of materials, colors and techniques, create organic textures that give our designs a precious 'lifelike' quality.
Featuring flora and fauna of this wonderful world, it's brilliant colours, complex textures and delicate forms, these designs are a homage to the endless beauty that surrounds us.
Fair Trade and handcrafted in India.