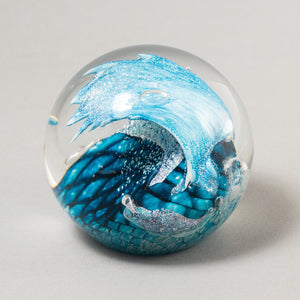 Honor the power of Mother Nature with this natural design.
The adjoining hands of wind and water to create the spectacular power and beauty of a cresting wave. 
Each weight takes a team of 2-3 artists to create. These carefully formed designs use a wide spectrum of specialty colors, dichroic glass, glow material, and precious metals. 
Approximately 3" diameter

Handmade in our Seattle studio

Singed by the artist

comes beautifully gift boxed