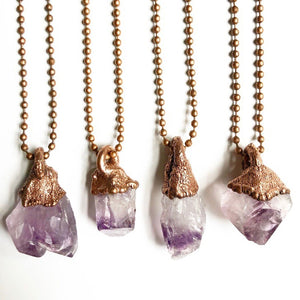 One electroformed Raw Amethyst Crystal point on a 24" antique copper ball chain.
February birthstone, Amethyst's ability to expand the higher mind also enhances one's creativity and passion. It is said to strengthen the imagination, intuition and refines the thinking processes. It helps in the assimilation of new ideas, putting thought into action, and brings projects to fruition.
Amethyst points measure approximately 1.0" x 0.5". Size, shape, and color may vary as no two stones are alike.
Made in the US