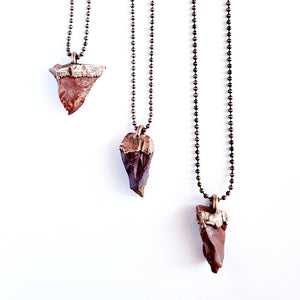 One copper electroformed Raw Red Jasper on a 24" antique copper ball chain.
Red Jasper is known as the stone of earth warriors, promoters of justice, and protectors of life. Its vibration stimulates the energy in the body to increase physical strength, energy, endurance, and focus.
Stones measure approximately 1"-1.5". Size, shape, color and pattern may vary as no two stones are alike.

Made in United States of America