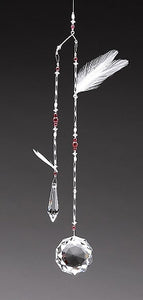 Garnet (India), Swarovski crystal chandelier pieces and beads, Argentium sterling silver cross-bar and beads, Czech glass silver-lined bugle beads, durable braided steel cable, fly-tying feathers.

Dimensions:4'' X 13'' hand crafted in Colorado 
These mobiles are more than just a crystal on the end of string. They are truly "jewelry for the house". They are a collection of fine materials from artisans from around the world, designed to evoke a feeling of continuity, completeness, and unity with other cultures and the natural world.