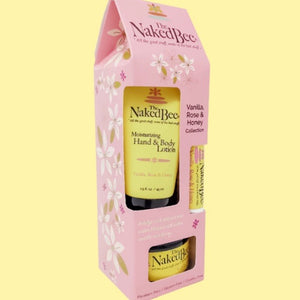 1.5 oz Lotion: Certified organic aloe vera and sunflower seed oil, rich in anti-oxidents. Made with honey and hyaluronic acid to soften, heal, and promote healthy skin.

3 oz Luxurious Body Butter: Made to hydrate all skin types. A creamy shea butter base helps to smooth and soften skin, while honey moisturizes.

Lip balm: Light flavoring without any harsh menthol to burn your lips. Made with organic olive oil and beeswax, soybean oil, and honey. Goes on soft and smooth, and protects lips from all kinds of weather.

 "All the good stuff, none of the bad stuff."™

Paraben-Free

No propylene glycol or mineral oil 

No dyes or pigment 

No lauryl or laureth sulfate 

Absolutely NO animal testing… ever.