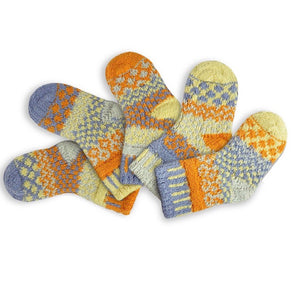 Our Baby Socks come in sets of 5: 2 pairs + 1 spare! As cute and cuddly as a puddle duck is, our Puddle Duck Baby Socks are sure to bring the same cuteness and cuddliness to those tiny toes. 
Colors in these socks: sky blue, light yellow, orange, light gray.
62% Recycled Cotton, 22% Recycled Polyester, 15% Nylon, 1% Lycra.
x-small ~ 0-6 months
small ~ 6-12 months
medium ~ 12-24 months