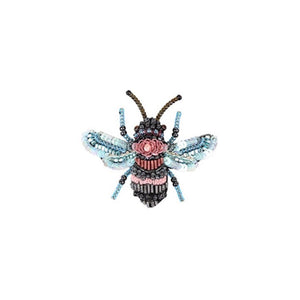 The ancient Greeks and Romans shared the belief that bees were emissaries of the gods. While the swarm was in flight, the troop was not to be disturbed as they were carrying messages and doing the biddings of the almighty.
Size : 4 cm l x 4.3 cm w, 1.6" x 1.7"
Created by a nature inspired atelier, crafting a line of timeless & treasured jewelry. The precise choice of materials, colors and techniques, create organic textures that give our designs a precious 'lifelike' quality.
Featuring flora and fauna of this wonderful world, it's brilliant colours, complex textures and delicate forms, these designs are a homage to the endless beauty that surrounds us.
Fair Trade and handcrafted in India.