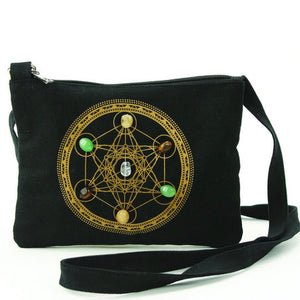 Sacred Geometry Crystal Grid Bag – Prosperity and Abundance
Made with genuine crystal and gem stones
 Crystals and Gemstones are precious creations from Mother Earth. So much more than just pretty rocks, they contain energy that can assist us in healing, transforming and manifesting our being and intention during our earthly journey.
 Sacred Geometry consists of geometric patterns that are thought to work as building blocks that can be used for manifesting, healing, and evolution of our body and soul.
 We combine Crystals with Sacred Geometry on this bag, with crystals that can amplify their healing and transformative energy properties through the geometric grid. Add a focused intention as you are wearing it and you might just feel the vibrations and energy shift around you. 
 This Sacred Geometry Crystal Grid bag is designed with the crystal and gem stones to amplify and attract prosperity and abundance into your life.
 CITRINE, 'The Merchants Stone', a stone of wealth, prosperity and abundance. Citrine brings confidence, willpower and courage, helping you to achieve your intentions and attract abundance, brings the courage and confidence to go for that opportunity.  It is also nicknamed "The Merchant Stone" because it helps to attract and collect money, helps with saving, spending wisely and not losing money. It inspires generosity and helps to control the outflow of money.
AVENTURINE, known as the 'Stone of Opportunity', brings good fortune, new opportunities, opens the doors to new ventures and projects.
GOLD TIGER EYE, It is said to  brings courage, confidence, strength of mind. It is said to create opportunities for growth and expansion in your career or business, boosts money flow, helps in bringing in money, saving and hanging onto money. Amplifies the energies you give to your career or business pursuits and to your intention to succeed.
CLEAR QUARTZ,  It is said to brings clarity and clear vision for your goals, amplifies your intentions into the universe. It also helps to amplifies the energy of all other stones on the grid.
No two stones are exactly alike and each one will boast its own unique appearance. 
Quality canvas material and uniquely designed
Includes 28" shoulder strap drop
Top zippered closure.  Fabric lined interior..  Includes rock crystals.
Measures Approx:  6.5" (L) x 0.25" (W) x 8.5" (H)