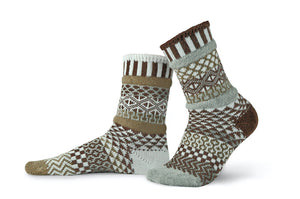 Pine Cone is a member of our Pacific Collection, which was inspired by the simple beauty of  our home - The Pacific Northwest - a palette to match your every mood. 

Colors in this sock: chocolate brown, pale brown, gray, white.


62% Recycled Cotton, 22% Recycled Polyester, 15% Nylon, 1% Lycra.
Small:      Women's 6-8,    Men's 5-7




Medium: Women's 8-10,   Men's 7-9




Large:     Women's 10-12, Men's 9-11




XL:          Women's 12+,     Men's 11-14
American Made * Ethically Sourced * Sustainably Made